Modern Foreign Languages
Inspiring
We want Language learning to be purposeful and fun! We encourage students to build up their confidence in the 4 essential skills of listening, speaking, reading and writing. They will use new words in lots of different settings and phrases: it's so satisfying to express opinions, and to create new sentences! Structures are also introduced in a relevant and accessible way.
Almost all students learn French in yr 7. Most add German in years 8 and 9; the two languages complement each other in the skills developed. Then students may choose to study French or German at GCSE – or both!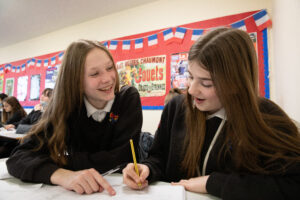 Individual
We aim to encourage the strengths of each student: for example you can have fun comparing your opinions to your partner's and disagreeing in French or German! We group students carefully for maximum impact, and set appropriate work for home language students and those who have missed part of a course. EAL students in particular may achieve differently from their target in MFL courses, as they have already experienced learning another language. Students are encouraged to think for themselves and to reflect on their learning at the end of each module.
Students have access to a wide range of digital resources, including the platform developed for our textbook. This is full of interesting and accessible tasks, allowing students to consolidate and extend their knowledge at home at their own speed.
Inclusive
Every student finds some things easy and some things difficult. We aim to foster a can-do attitude where everyone feels they are making progress, and where people help each other to move forward. Our resources reflect the diversity of the modern world in which our students live. It doesn't matter how much or how little French each person knows, or how interested they are in patterns: our wide variety of tasks and lesson styles has something for everyone!