Students in Year 11 face a number of important challenges and decisions to make during the year.
Year 11 is a continuation of Year 10 as students prepare for their GCSE exams.  The GCSEs are 2 year courses with exams taken at the end of Year 11.
For information on how to revise and details of revision resources for each subject please browse the publication below.

Working hard right from the outset is key to success at GCSEs as students build up knowledge, understanding and skills.  However, a truly successful Year 11 student will not concentrate solely on academic work.  At Netherhall, our aim is to prepare students for the wider world.  Achieving the best possible exam grades will of course be important, but it is equally important for students to develop their character and experience through engaging with the wider opportunities on offer.
We have a full programme of extracurricular sporting, musical and dramatic activities.  A variety of trips are also on offer and there are also activities for students to get involved in which provide a service to the school community.  We encourage students to participate in as many of these activities as possible.
All of this will help the students move on and make a successful transition either to our own sixth-form or to one of the other 6th form or further education centres in the city.  Students apply for post-16 courses at the end of the Autumn Term.  Prior to that, a full programme of information, advice and guidance is provided for both students and parents.
Once the exams are over, Year 11 students can look forward to the Leavers' Ball.  This is always a very glamorous event and very well attended, attracting an increasingly large number of onlookers as our students arrive in their finery.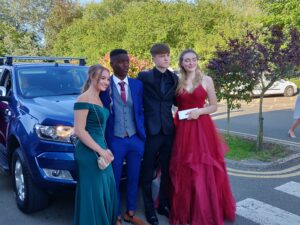 Throughout the year, students will be supported by their form tutor, their form mentor, the pastoral support tutors and their School Achievement Leader.  We welcome any contact from home regarding the academic progress or social and emotional welfare of the students.
Post 16
Many students opt to progress on to The Oakes College Cambridge for their sixth form studies, based on the same site as The Netherhall School. Please visit the Oakes' website for further details.