Design Technology
Aims and values
In Design and Technology our core mission is to give students the range of skills to succeed as designers in a modern world. Our lessons aim to inspire students through designing and making products and outcomes that solve real world problems. We teach the students a range of skills from designing to making and supplementary computer-based skills. Aesthetics and designs that are fit for purpose are central to our philosophy.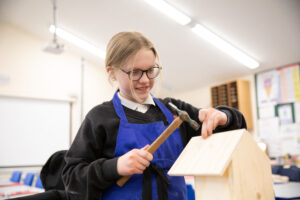 Key Stage 3 Curriculum
In Key stage 3 we teach students Graphic Communication, Product Design, Food and Textiles. Students study these four disciplines over years 7 & 8. In year 9 students are able to choose two of these pathways to study and explore further. Promoting creativity and an ability to work with materials are central to our teaching. Students work in a series of specialist rooms and work with specialist teachers.
In Key Stage 3 students use a range of strategies that are common to each specialist strand and programme of study, these are:
Researching and specifying, where students learn to gather information and specify the scope of their project.
Generating ideas and developing, where students learn to create innovative ideas and go on to refine and develop them.
Planning, where students learn how to plan a project and their time and learning the importance of Health and Safety.
Understanding of Materials and Techniques, where students learn to work with different materials and the correct tools and equipment. Students are guided through this in different specialist workshops.
Problem solving and testing, where students learn to solve problems relevant to their designing and making and test certain elements of them. This will help students become independent and gain confidence when faced with problems.
Typically, each design and make project will last for half of the year.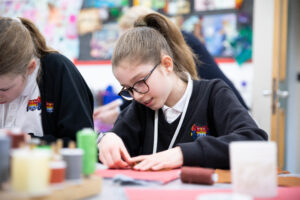 Key Stage 4 Curriculum
Students have the opportunity to study a range of subjects at Key Stage 4. The following
courses are available for students to study:
GSCE Design and Technology (Graphics Pathway)
GCSE Design and Technology (Product Design Pathway)
GSCE Food Preparation and Nutrition
BTEC Level 2 Health & Social Care